Wing Tuck Engineering Pte Ltd
Offshore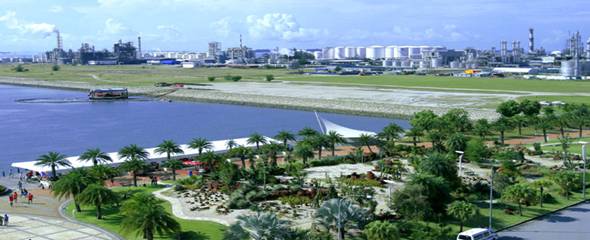 Our focus on offshore expansion dates back to 1994 when we set up an office in Malaysia to provide consultancy works to Shell, Petronas and Mobil.  Another business expansion was in Vietnam's Ho Chih Minh city in 2003. Due to tight cashflows to fund expanding business plans, we decided to reduce our exposure and instead concentrate on two other nearer promising areas, Jurong Island and  Bukom Island.
Some of the Developments in Jurong Island
Jurong Rock Cavern (JRC)
The Jurong Rock Cavern (JRC) is an underground oil storage complex to be built at subterranean depths beneath the seabed of Banyan Basin in Jurong Island. The underground caverns have a potential storage capacity of close to 3 million cubic metres and can be used to store liquid hydrocarbons like crude oil, condensates and diesel oil.
Phase 1 of the JRC will have a storage capacity of about 1.5 million cubic metres. Development works on the cavern have begun in end 2006. This will be home to the first underground oil cavern for hydrocarbon storage in Singapore and will boost her position as an oil storage and chemicals hub.

Benefits of JRC
An alternative form of hydrocarbon storage underground – Jurong Rock Cavern brings about the benefits of freeing up large tracts of land above ground to be utilised for higher value-added manufacturing projects
Lower risks associated with Health, Safety, Environment and Security
Lower life cycle costs associated with storage operations and maintenance
Reinforce Singapore's oil storage and chemicals hub status by providing a competitive form of storage to tap on new opportunities arising from challenges in ensuring energy security in Asia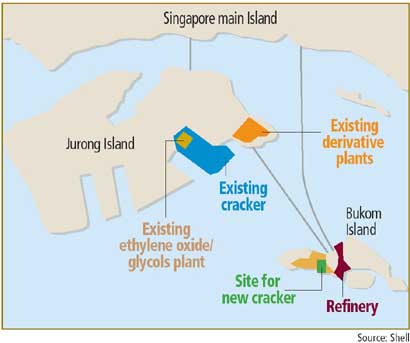 Some of the Developments In Bukom Island
Petroleum giant Shell has confirmed it will proceed with the construction of a new butadiene extraction unit in Singapore. The facility will form part of Shell's Eastern Petrochemicals Complex, which it is building on Pulau Bukom and Jurong Island. Shell's Eastern Petrochemicals Complex is targeted for start-up in 2010. And the new butadiene extraction unit will form part of this world-scale project, which also includes an ethylene cracker. The butadiene unit will be built on Pulau Bukom and have an initial capacity of 155 kilo tonnes per annum. Shell said the new plant would help the company meet the demands of the region's fast-growing petrochemical industry.
Dr A Chockalingam, Startup Manager, Shell Eastern Petroleum Complex, said, "Over the next 10 years, Asia will need several crackers to meet the olefin demand and this is one of many. Butadiene is used to make rubber-based products which goes into tyres, adhesives and also in spandex material for nylon; it's another growing area as well."
The Shell Group is considered the largest marketer of butadiene globally. It has contracted a large part of the new plant capacity for butadiene to industry players in the region. The building of Shell's Eastern Petrochemicals Complex is expected to create thousands of jobs. Shell said some 8,000 people would be needed to construct the plant and another 200 to run it. Shell declined to reveal the exact investment cost for its new butadiene plant on Pulau Bukom. It would only say that it would form part of the overall cracker project, which is estimated to cost several billion US dollars.
Shell to build new extraction unit to boost $4.5b cracker plant
Pulau Bukom facility will have initial butadiene capacity of 155 kilotonnes
ENERGY giant Shell Eastern Petroleum will build a new extraction unit to complement the US$3 billion (S$4.5 billion) cracker due for completion in 2009. The unit, to be built on Pulau Bukom, will have an initial annual capacity of 155 kilotonnes of butadiene, the firm said yesterday. It is part of the US$3 billion Shell Eastern Petrochemicals Complex (SEPC) – previously code- named 'Houdini' – targeted for start-up in 2009-2010. 'This project is yet another significant investment in Shell's downstream business portfolio, and in Singapore… It will help us to meet the demands of the region's fast-growing petrochemical industry,' said SEPC general manager Pieter Eijsberg yesterday.
The expertise of WTE is highlighted very strongly as we have a very high standing with large oil majors like Shell, Exxon Mobil and SPC. This reputation of ours has given us a strong mandate to expand overseas.
We are in contacts with dealers and other large oil and gas contractors in Middle East to impart our proprietary fuel management system, and in discussion stages with some prominent groups on strategic investments within WTE.